Scotch Whisky Tours
uisge beatha - water of life - scotch whisky...come and enjoy a dram
The people of Scotland have always enjoyed their national drink. Prior to legalisation whisky was distilled in illicit stills high in the hills out of sight of the local excisemen. Enjoyed by nobility and royalty the Excise Act of 1823 saw the birth of many famous distilleries in Scotland. Today visitors can come to Scotland and enjoy the history, hospitality and partake of a dram or two of our special amber liquid. We are sure you will have a favourite region. If you enjoy a dram then your trip will be very memorable. Wherever your are coming from, there will be an abundance of distilleries on a trail of spectacular scenery as you travel through Scotland.
There are various airports throughout Scotland from where we can pick you up and drop you off.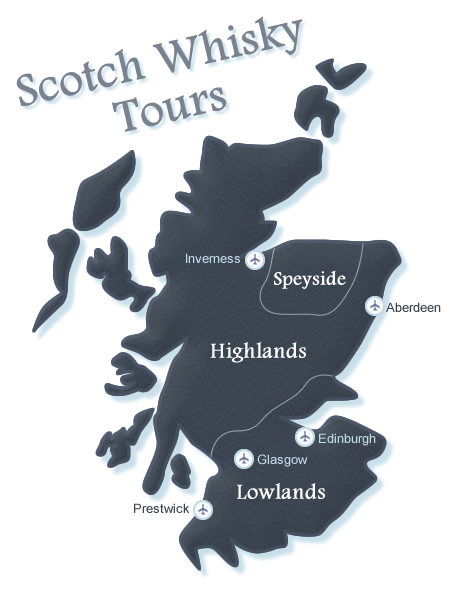 Southern/Central Scotland: Edinburgh, Glasgow and Prestwick Airports are ideally located for touring the lowland distilleries including Bladnoch, Auchentoshan and Glenkinchie. Whilst in the south of Scotland, there are many famous cities and landmarks to be visited including the historical capital of Scotland, Edinburgh, home of the The Scotch Whisky Experience, Scotland's city of Culture Glasgow, Stirling famous for it's castle and William Wallace Monument and Perthshire, home of Dewar's World of Whisky and Distillery at Aberfeldy...more info
Speyside/North East of Scotland: Aberdeen and Inverness Airports are the local airports for the Speyside Whisky Trail, home to many famous malt whisky brands including Glenfiddich, Chivas, Aberlour, Glenlivet. A beautiful corner of Scotland featuring soft rolling hills and salmon filled rivers, a must for any whisky enthusiasts...more info
Highlands of Scotland: Inverness Airport is main airport furthest north in Scotland. The Highlands is an extensive area and covers from Oban on the west coast up to Highland Park Distillery on Orkney and down the north east coast...more info
Remember, you can either tell us which distilleries you want to visit or we can arrange a very special itinerary for you.